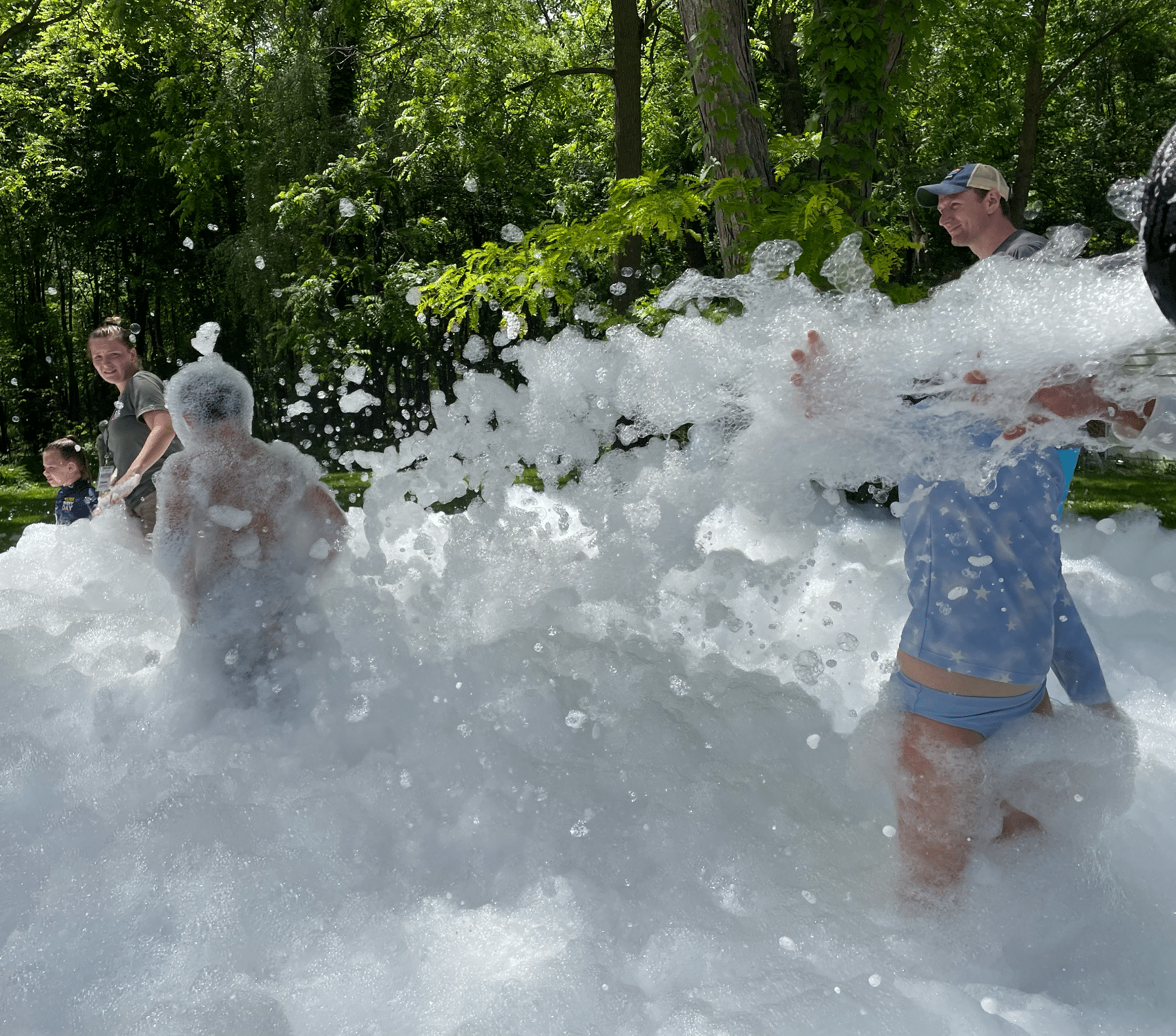 How do foam parties work?
We arrive 20-30 minutes before the party's start time. We set up with a 5′ x 5′ tent, where our foam cannon and speaker sits. An hour of foam party uses 2 bathtubs full of water.
Sound system and the Foam Cannon starts up the party with beach balls and games in between. We set up Foam Zone signs and continuously manage the party.
A foam party includes most of the same elements that a regular party would; music, dancing and even games. The only difference is that with a foam party, the dance floor will be covered in fun foam, which as you can imagine, gets people into party mode pretty quickly.
How do you clean up after a foam party? 
Our foam solution is designed to dissipate in the sun but for extra precautions, spraying area down with water helps it dissipate faster. 
Is your foam safe for kids and pets? 
Yes! Our foam solution is hypo-allergenic, dye-free, biodegradable and safe for kids, pets and the environment.
We DO NOT use dish soaps that can dry or irritate skin.
We only use professional grade foam solution (Think baby soap). 
Do you get wet in the foam?
Running through foam may leave you damp and you can easily dry off in the sun. Playing in the foam pile for longer will get you wet.
What do you wear to a foam party?
Lightweight shorts and shirts are advisable. Running through the foam will leave you damp and will dry off in the sun. 
Swimsuits are suitable for kids and adults who will be in the foam for longer periods. Goggles are recommended for kids who choose to play or sit inside the foam pile.
Where should I have my foam party? 
Our Foam cannon alone can fill up an area of up to 40′ x 40′ ft.
The foam works best on grass, but it can also work on driveways, parking lots or closed-off roads.
For bigger events like fairs and festivals, we can provide a custom package with multiple foam machines for more than up to 40 attendees. 
Address
284 Dodge NE
Suite 100
Comstock Park, MI 49321